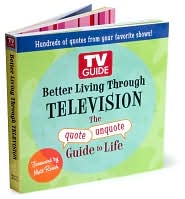 Hi everyone! well I decided not to wait for a contest; I'm ready for some fun now! The picture above is the prize - the book
Better Living Through Television: the Guide to Life
. Hey this is what tvyarn is all about! Finally someone else recognizes how much wisdom we gain from watching television! Here's some quotes from the book:
"when guys are persistent, it's romantic. They make movies about that. When it's a woman, then they cast Glenn Close" - Clista Flockhart as Ally McBeal on Ally McBeal
"I wanna do it, Gus. I wanna see that country, before the bankers and lawyers all git it." Tommy Lee Jones as Woodrow Call on Lonesome Dove
"My wife had left me, which was very painful. Then she came back to me, which was excruciating". Kelsey Grammer as Fraiser Crane on Fraiser
ok, so here's the contest question: how many skeins of yarn do I have in my downstairs dye studio right now? I don't know the answer yet but I need to do some inventory next week. I have quite a bit of undyed yarn to dye since I have the
SAFF
fiber festival to prepare for. I also have some dyed yarn inventory built up to sell there. And I have an order for
Woolgirl
to ship out on Monday, so that is down there too. This will only be yarn that I intend to sell, not yarn in my personal stash.
Also, remember that for fingering, I sell 2 skeins (350 yrds) to make one pair of socks, and for sport weight, I sell 1 skein (225 yds) for one pair of socks.
You can put your guess in the comments or send me email, which ever you prefer whiteoakstudio at yahoo dot com You have until 5pm Sat Oct 13 to guess.
Good Luck! Jana